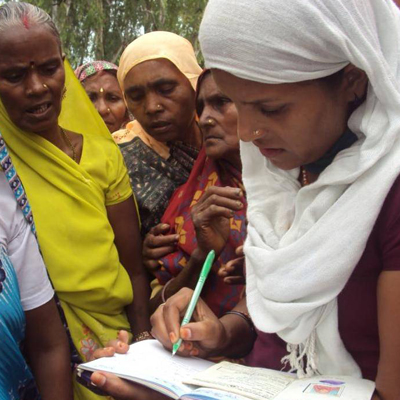 A rural newspaper that had humble beginnings, has emerged as a force that even mainstream media can learn from.
On Monday, news about a person harassing and stalking a team of women journalists in rural Uttar Pradesh created social media outrage,
after a first-person account
about the apathy they faced from the UP police went viral. It forced the police to get cracking on the case after months of inaction and the
stalker was finally nabbed
.
The case also brought to light the local language newspaper called Khabar Lahariya run by these resilient women who are not new to standing up to challenges. In fact, it is this very spirit that gave rise to the weekly newspaper.
Khabar Lahariya is a chain of local language newspapers in Uttar Pradesh, produced by a collective of women journalists. The newspaper had humble beginnings with six reporters and around 1000 copies. Today, the team has 40 women recruits and boasts of a readership of 80,000 per week, spread across 800 villages of
Uttar Pradesh
and Bihar, with editions in Bundeli, Bhojpuri, Awadhi, Hindustani and Bajjika. Not only does the paper have formidable reach for a newspaper in the rural hinterland, but for almost a year now, it also has an online presence through its news website and social media pages.
The birth of this all-women led rural newspaper took place in one of the poorest districts of Chitrakoot and Banda in Uttar Pradesh, where social challenges like crime and sexual violence are prevalent, owing to the skewed sex ratio and low literacy rates. With caste and
gender discrimination
being a norm, these women had to overcome numerous social and personal odds to assert themselves. In a region where dacoits are known to run wild, where
law and order
systems are rendered ineffective and Sati and other obsolete rituals still raise their ugly heads, these women have battled against dogmas and patriarchal perceptions at home and outside to make themselves heard.
As their work progressed, their stories focussed on hardcore politics, apart from women and development issues. Their reporting now commands respect and attention even from male readers and government officials, who had earlier ignored them. The majority of the women have emerged from lower castes and minority communities to report their stories and most times, they live and experience the stark realities that they write about. They personally travel and interact with the stakeholders of society, be it the common man or the authorities, than relying on spokespersons or corporate communications. "
They do the kind of reporting that mainstream media ignores, be it challenging power structures, mining quarries or the administration
," says Disha Mullick, Director of outreach, Women Media and News (WoMeN) Trust, which publishes Khabar Lahariya. The team also declines advertisements that have feature any casteism, fundamentalism, sexism, violence or superstition.
The newspaper's origins lay in promoting literacy for women. The idea first took shape in 1999 in the form of Mahila Dakhiya. The women were learning to read and write through Mahila Samakhya, the government's six-month literacy programme, and were not satisfied with becoming literates alone, yearned for more immersion in language. This propelled them to start writing for
Mahila Dakhiya
, a four-page monthly newsletter in Bundeli language. Later, the Delhi-based organisation, Nirantar—Centre for Education and Gender, which was working with them, envisioned a future that went beyond their literacy and towards social and financial empowerment for the women. Nirantar joined hands with Mahila Samakhya to start Khabar Lahariya in 2002, and the rest, as they say, is history.
With its feet firmly on the ground, the newspaper has set its eyes on the sky. "We are definitely planning to bring in more women and have been trying to work out the resources and find investors,"
Mullick
says. Throwing more light on their screening process to recruit reporters, Jataw adds, "We are looking for women who are not scared of talking to men and are unafraid to question authorities."
Khabar Lahariya has already begun making waves in mainstream media and urban society and could very well inspire mainstream media to take a hard look at itself and return to some basics
Source - DNA